Eagle Brook Church Reduces Content, Enhancing User Experience
Located in Lino Lakes, MN, Eagle Brook Church exists to provide relevant worship experiences leading their community into transformation and personal ownership of their faith. Eagle Brook Church adopted it's current name (changed from First Baptist Church of White Bear Lake) in 1991 has grown to an average weekly attendance of over 13,000 in 2012. With five campuses throughout the greater St.Paul, MN metropolis Eagle Brook Church is a growing and thriving church positively impacting their city.
Their Goals
Develop clear next steps for online visitors. View New Next Steps Page
Free up ministry staff to spend less time managing online content.
Develop a visitor focused multi-site design.
Organize sermons and resources to increase engagement. View New Resources Page

Content can be overwhelming, but it's worth putting the time in and not pushing it under the rug.


Melissa Therrien // Communications Coordinator for Eagle Brook Church
---
The Situation
Eagle Brook found themselves with a very complex website steeped with content several layers deep. They were overwhelmed with their technology and struggled to operate efficiently and effectively. Non-existing metrics and analytics made it difficult to identify and measure success, while staff and the greater Eagle Brook community struggled to use their website and technology with efficiency. Website content was seen as a burden rather than a tool for ministry.
The Stats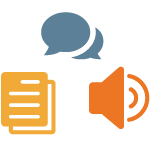 70% Reduction
in Content
The Solution
Monk Development provided an OnSite Strategy Session helping Eagle Brook's Executive Team identify and clarify their mission, vision, and values. This in-depth guided consultation paved a clear path for content clarity and strategy reducing website content by over 70% and streamlining a focused critical path for anyone landing on the Home Page.
---
The Services


Content, Digital & On-Site Strategy


Custom Development


Content Management System (CMS)
---
Get Results
Ekklesia 360 can help you achieve real ministry results.
Portfolio
See Ekklesia 360 church websites.